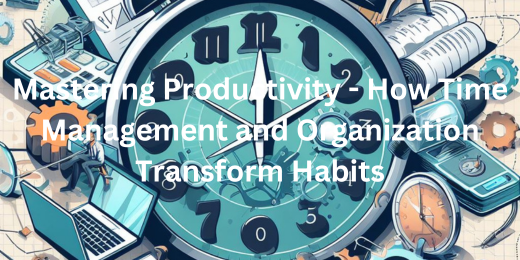 Mastering productivity begins with understanding the crucial role of time management and organization. These twin pillars form the bedrock of efficient work habits. Effective time management involves prioritizing tasks, allocating specific time slots, and avoiding distractions. It ensures that each minute is utilized purposefully.
Simultaneously, organization creates a structured environment where everything has its place. This extends from physical spaces to digital files and schedules. A clutter-free workspace and a well-organized digital workspace alleviate stress and foster a focused mindset. Moreover, setting realistic goals and breaking them into manageable chunks empowers individuals to make steady progress.
Embracing the essence of efficient work habits cultivates a culture of productivity, leading to accomplishments with precision and purpose. In essence, understanding and implementing time management and organization principles revolutionize the way we approach tasks, resulting in more productive and fulfilling work and the ability to maintain a healthy lifestyle through exercise.
Time Management Techniques for Optimal Productivity
To achieve optimal productivity, mastering time management and organization is paramount. Effective time management involves utilising techniques like the Pomodoro Technique, where work is broken into focused intervals with short breaks, enhancing concentration.
Prioritising tasks based on urgency and importance, as suggested by the Eisenhower Matrix, ensures that vital activities receive due attention. Moreover, setting specific, achievable goals for each day facilitates a sense of purpose.
Alongside time management, organization plays a pivotal role. A well-structured to-do list or digital task manager keeps priorities clear. Additionally, decluttering physical and digital workspaces fosters a conducive environment for productivity. 
Implementing these strategies to maximise productive hours results in not just working harder, but working smarter. It enables individuals to accomplish tasks efficiently and make the most of their valuable time. By merging effective time management and organization, one unlocks the door to peak productivity.
The Art of Prioritization and Goal Setting
The art of productivity lies in mastering time management and organization through strategic prioritization and goal setting. Prioritizing tasks is like setting sail with a clear destination in mind. By identifying the most crucial activities, you ensure that your efforts are aligned with your objectives.
The Eisenhower Matrix, a valuable tool, categorizes tasks into urgent, important, and non-urgent categories, aiding in efficient decision-making. Equally vital is goal setting, which provides a roadmap for success. Specific, measurable, achievable, relevant, and time-bound (SMART) goals serve as clear markers of progress.
This approach ensures that each task aligns with broader objectives, maximizing its impact. By combining effective time management and organization with precise prioritization and goal setting, you not only work smarter but also pave the way for significant accomplishments. It's the key to turning effort into true achievement but also enables you to maintain a healthy lifestyle.
Organizing Your Workspace for Success
Effective time management and organization aren't confined to just tasks; they extend to the very space in which you work. Creating an environment conducive to productivity is pivotal. Start by decluttering your workspace. A clutter-free desk promotes mental clarity and reduces distractions.
Allocate specific spaces for different items, making them easy to locate when needed. Utilize storage solutions like shelves, cabinets, and desk organisers to keep things in order. Moreover, ensure that your workspace is well-lit and ergonomically designed. A comfortable chair and proper lighting prevent physical strain, allowing you to focus better.
Personal touches like plants or motivational quotes can infuse positivity. A tidy, well-organised workspace becomes a sanctuary for productivity, where you can accomplish tasks efficiently. By prioritizing time management and organization not just in your schedule but also in your physical workspace, you pave the way for success.
Streamlining Processes for Efficiency
In the pursuit of productivity, mastering time management and organization calls for streamlining processes and cutting out time-wasting activities. Streamlining involves identifying repetitive tasks and devising efficient workflows. It could be as simple as creating templates for commonly used documents or implementing software that automates routine processes.
Eliminating time-wasting activities requires a discerning eye. It involves identifying tasks that contribute little to your goals and either delegating, postponing, or altogether discarding them. This could mean reducing unproductive meetings or setting strict time limits for certain tasks.
By honing in on these two crucial aspects, one not only frees up valuable time but also ensures that every effort contributes meaningfully to the end goal. Through efficient processes and judicious allocation of time, productivity soars to new heights.
Sustaining Productivity Habits for Long-Term Success
To achieve long-term success, the foundation lies in unwavering commitment to effective time management and organization. It's not a one-time effort, but a sustained habit. Cultivating a proactive mindset is paramount. Anticipate challenges and plan ahead, rather than reacting to them.
This forward-thinking approach prevents last-minute rushes and ensures a smoother workflow. Consistency is equally vital. Establish routines and stick to them, reinforcing a sense of discipline. Regularly review and adjust your schedule and tasks to stay aligned with your goals. Additionally, maintaining an organized workspace is key. 
Clutter-free surroundings foster a clear mind. Regularly declutter and organize your digital files too. By prioritizing time management and organization as enduring habits, you lay the groundwork for continuous growth and accomplishments. It's not just about being productive today, but about sustaining it for a successful tomorrow.